Complete patent information is available throught the U.S. Patent Office or through Google Patents
THE AUSTIN ORGAN COMPANY KEY / PIPE ACTION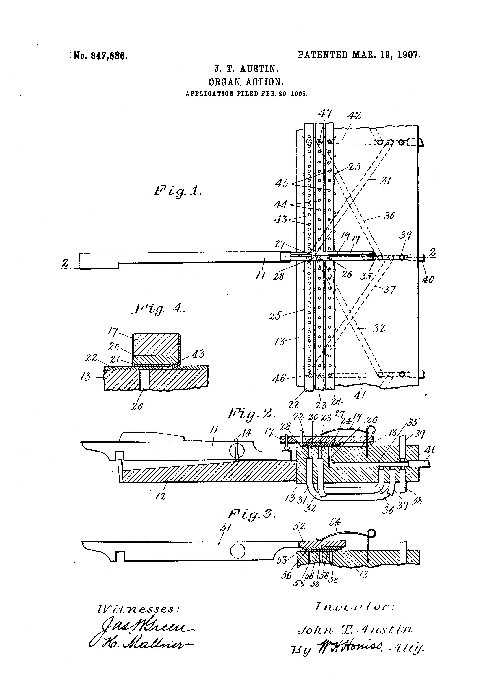 THE AUSTIN ORGAN ACTION INVENTED BY JOHN T. AUSTIN
E.M. SKINNER "DUAL PRIMARY" ORGAN VALVE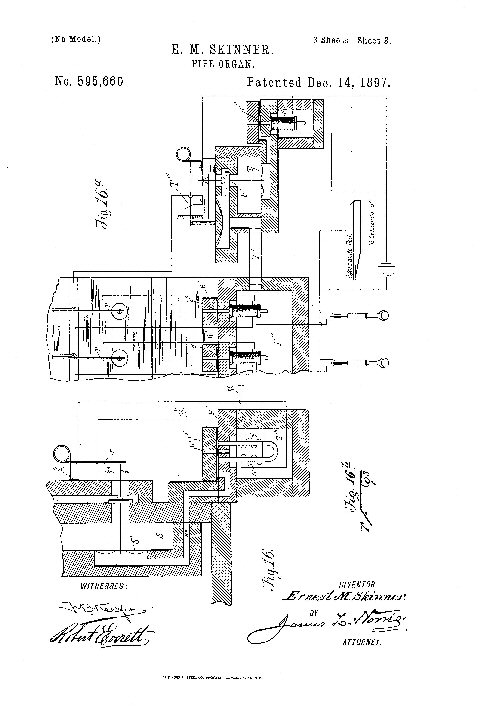 THE DUAL PRIMARY VALVE, invented by Ernest M. Skinner, is believed to be the fastest responding pipe organ action ever built.
VALVE ACTION FOR THE RUDOLPH WUTLITZER/HOPE-JONES UNIT ORCHESTRA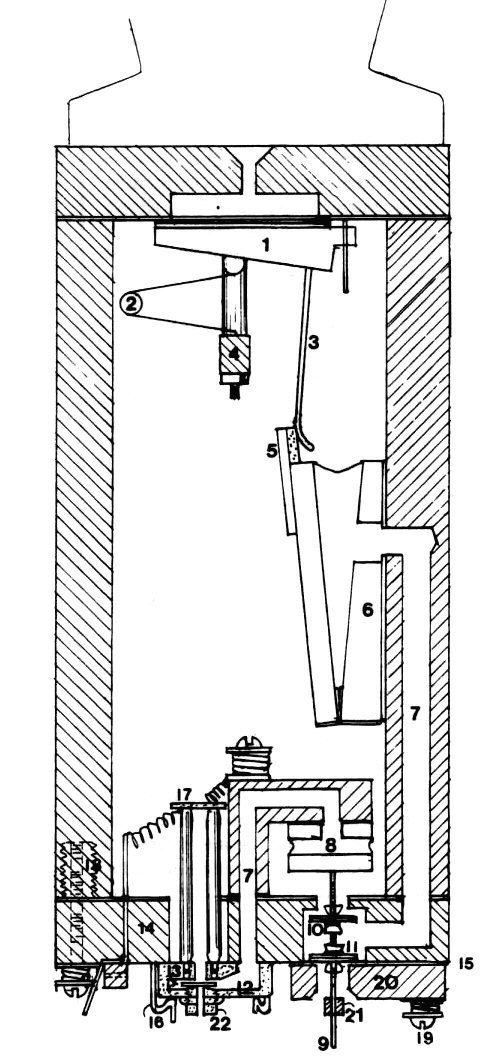 The Wurlitzer Electro-Pneumatic Action Valve by Rudolph Wiurlitzer Company Ltd.
DAVID MARR'S PATENTS FOR THE MARR AND COLTON ORGAN ACTION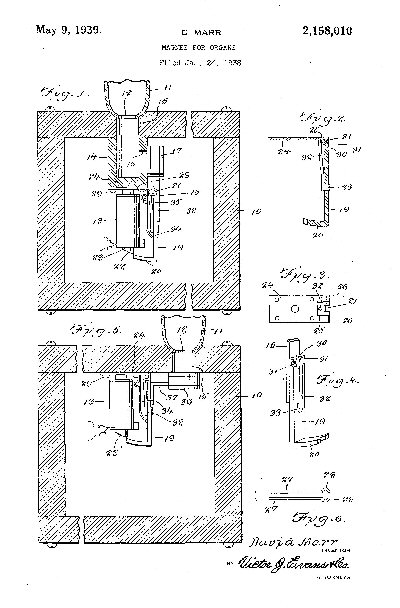 After an association with both Robert Hope-Jones (Skinner Company) and later with the Rudolph Wurlitzer Company under Hope-Jones reign, David Marr formed his own organ firm in partnership with another former Wurlitzer employee, John J. Colton. (Click here to see document from the ATOS website about the Marr and Colton firm). Shown here is one of two patents that David Marr filed for his direct electric valve designs. Click here to see a larger version of this document. Click here to see the complete patent documents for Patent # 2167407 and Patent # 2158010.
THE WICKS DIRECT ELECTRIC ORGAN ACTION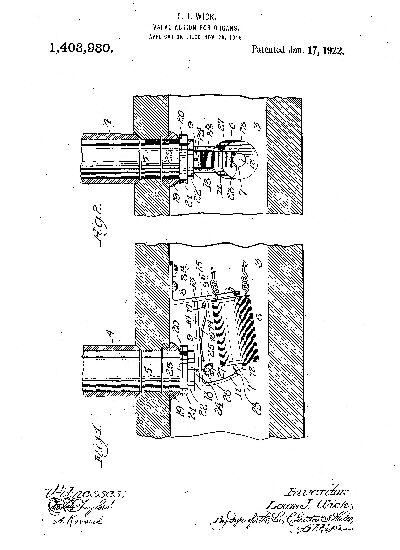 Shown here is the drawing for the Wicks Direct-Electric organ valve. Literally hundreds of thousands of these valves are in use in Wicks organs across the land. Proven to be an extremely reliable device, many Wicks installations still contain large numbers of original valves manufactured in the 1920's and 30's. Click here to see a larger version of the drawing. Click here to see the complete patent applications for patent #1984167 and #1765958.
THE CARLSTED CHEST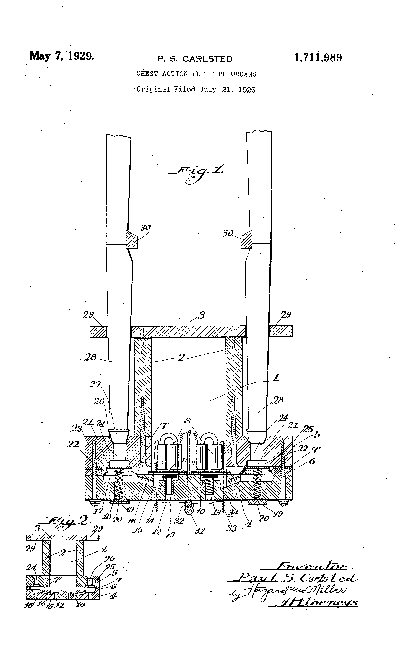 The Robert Morton organ chest as developed by Paul S. Caelsted (note difference in spelling between inventor's actual name and the chest name showing on the patent document.) For an enlarged version, click here. To see a copy of the original patent documents, click here.
MATTHIAS P. MOLLER COMPANY OF HAGERSTOWN, MD.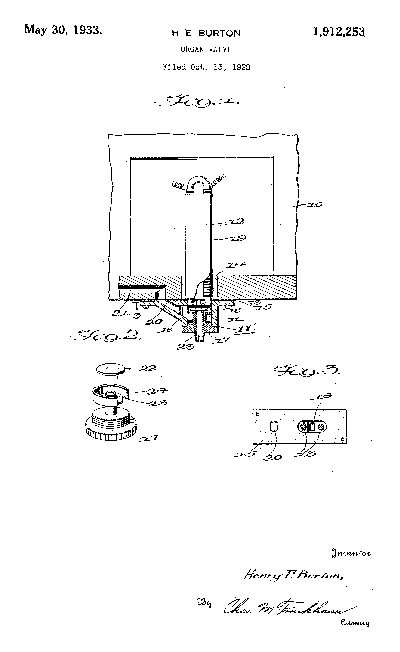 The BURTON valve which was assigned to the M.P. Moller company. Click here for a larger version.
You can also view the complete documents for two Moller patents by clicking for 1912253 and 343049.
THE W.H. YOUNG ORGAN ACTION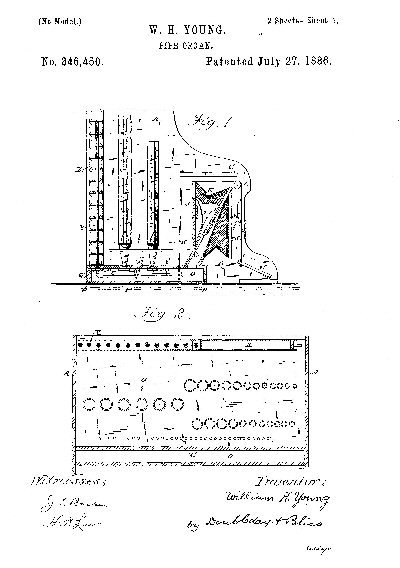 View a larger version of this diagram here. View complete Patent #346450 here
THE BROWN ORGAN VALVE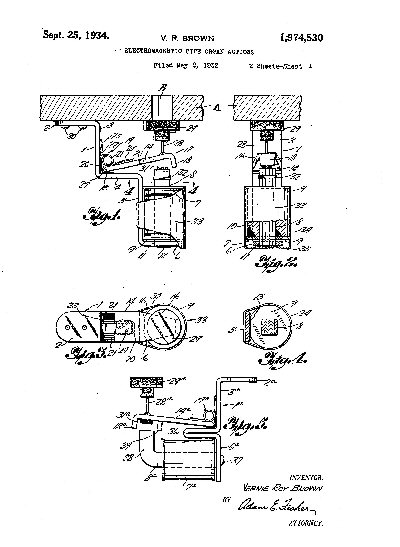 THE BOWMAN ORGAN VALVE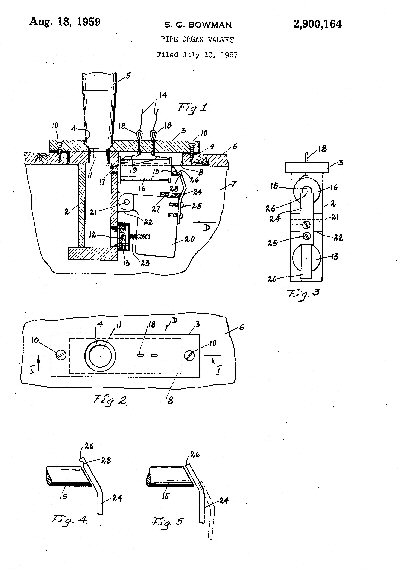 View a larger version of the drawing here. View the patent #2900164 here.
These documents are provided to give the visitor a general understanding of the types of organ actions in general use, and the development that led to the various organ valves in use today.