YOU ARE ENTERING THE SECOND
RAILROAD GALLERY

AT THE


MUSEUM OF YESTERDAY




MODEL RAILROADING IN THE MID 20th CENTURY
For American boys (and their fathers), model railroading was a major pastime in the mid 20th Century. The majesty of the "Steam Era" and the great passenger trains was still in bloom in America, and many families traveled by rail instead of by airplane. Because of the every-day exposure to railroads, both in travel and in the fact that railroads wound their way through many of Americas' cities and towns, most boys (of all ages) thrilled to the idea of receiving a Lionel or American Flyer electric train under the Christmas tree. Here are some memories of the days when model trains dominated the American toy market.

The popularity of model railroading in the 1950's can be relived through this movie clip of a popular early 1950's television program, presented by the A.C. Gilbert Company, called the "Boys' American Flyer Train Club." Click here to watch a complete episode from 1950.


HERE ARE SOME ITEMS FROM THE MUSEUM OF YESTERDAY'S
MODEL RAILROAD EQUIPMENT COLLECTION
Items are representative of the 1946-1955 era of Lionel Train Products
Lionel animated Switchman (1949)

Lionel
automatic Crossing gate

Marx Block Control

Lionel Block Signal

Lionel track repair crew car

Lionel Street Light

Lionel Banjo Crossing Signal

Lionel #64 Lamp Post

New York Central loco from 1947

Lionel barrel loader

Two O Gauge engines from the post WW-II Era

Lionel Water Tower

Lionel O Gauge Signal Bridge

Lionel Victorian
Street Light

Circuit Breaker

Lionel manual and Model 022 electric track switches

Lionel Track crossing sections

Lionel "O" Gauge 24" trestle style track bridge

American Flyer animated freight depot

Lionel Animated signalman

Scale model of Ashland Station, hand crafted by a Virginia modeler

Lionel rail yard light tower

Animated signalman's shanty

Lionel track termination bumper

Plasticville Fire Department

Church building

Lionel Advertising Figure

Pre-War Lionel Bascule Bridge

Animated "Burning" Yard Tower

Lionel stationary bridge with Illinois Central trademark

Animated water tower has bubble tube in center and red aircraft warning light on top.

Post WW-II Lionel semafore

Note: All items shown in the photographs above are owned by the Museum Of Yesterday, and are on display in our permanent collection.
RAILROAD HISTORY AND INTERESTING SITES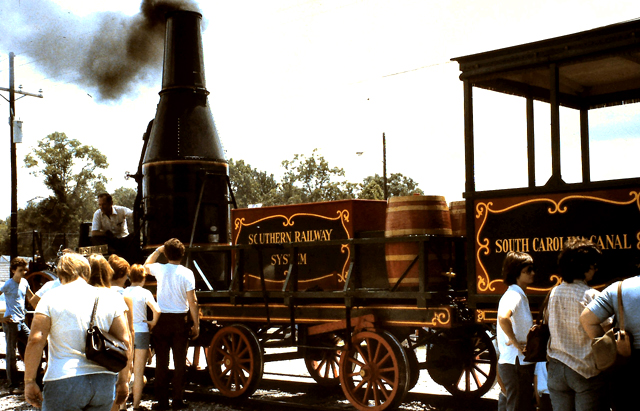 THE VERY BEGINNINGS OF
STEAM RAILROAD TRANSPORTATION
1976 visit of the Southern "Best Friend" locomotive to Slidell, LA. for the American Bicentennial Celebration
VIRGINIA RAILROAD HISTORY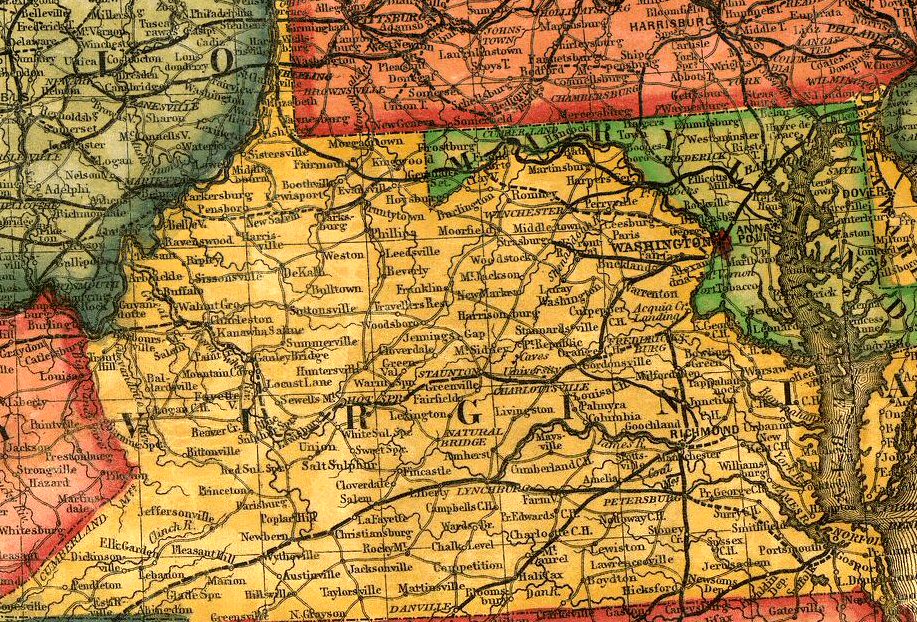 This pre-Civil War map indicates the number of individual railroads that have served Virginia through history.
THE STORY OF RICHMOND'S CHURCH HILL TUNNEL
Church Hill Tunnel is an old Chesapeake and Ohio Railway (C&O) tunnel extending for approximately 4,000 feet under the Church Hill section of Richmond, Virginia. Built in the early 1870s, in 1925, the tunnel collapsed on a work train killing four and trapping a steam locomotive and some flat cars. Rescue efforts only resulted in further collapse, and the tunnel was eventually sealed for safety reasons. Portions of the tunnel have continued to wreak havoc above in the years since, and several houses and a wall of a church were destroyed near 25th and Broad Streets. More recently, tennis courts and a wall of a house seem to have been victims farther east. Long the subject of community speculation and trespassing incidents at its eastern end, the tunnel is owned by CSX Transportation. The tunnel, which is still considered dangerous, was featured in a 1998 newspaper article by Richmond Times-Dispatch reporter Mark Holmberg, who explored portions from the eastern end with professional caving personnel and equipment.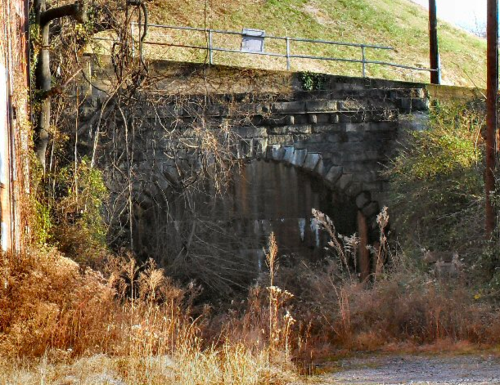 Sealed entrance to Church Hill Tunnel, Richmond, VA. as photographed by John DeMajo in 2009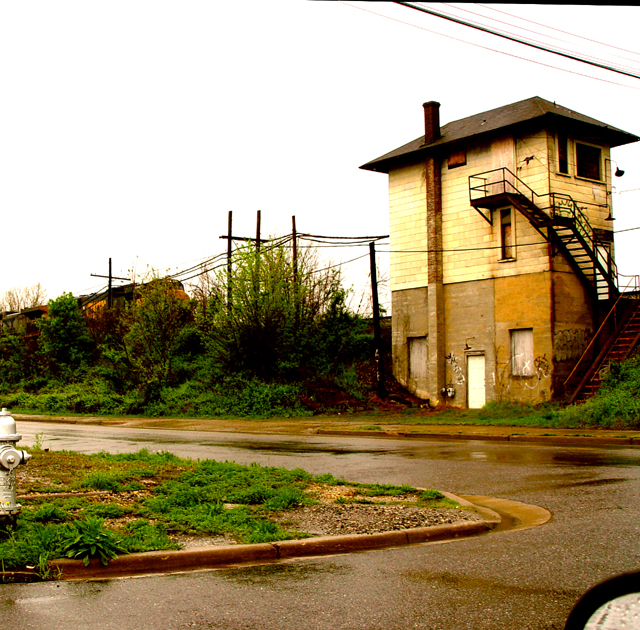 OLD RAILROAD SWITCH TOWER AT FULTON YARD IN RICHMOND
(Note: this tower was demolished in 2013)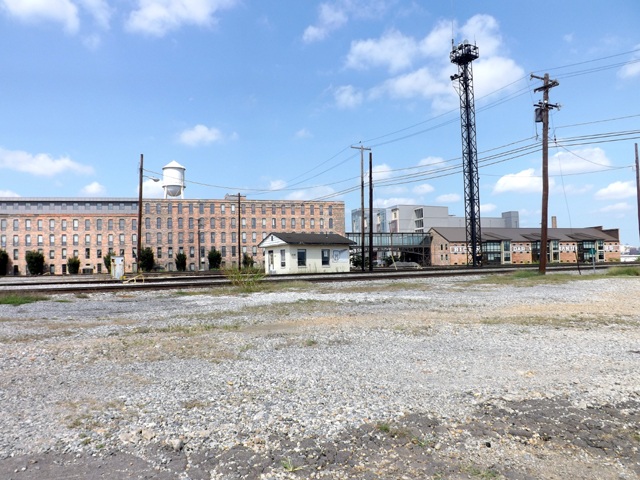 Entering Richmond's Fulton Railroad Yard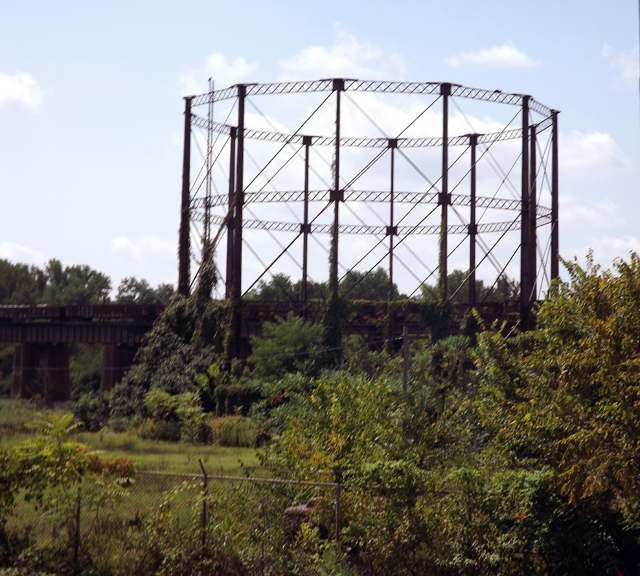 Remains of the Fulton Gas Works (photographed in 2014)

In the "gaslight" era, many Richmond homes utilized gas made from coal for lighting. Cities and towns which employed this technology, were required to build coal processing plants where the coal was partially burned to yield the gas product that was piped out to the homes and businesses. In Richmond, Fulton Gas Works was the provider of gas for these purposes. The Fulton Gas Works plant was located along the railroad tracks near the Fulton Train Yard. The photo above shows the remains of one of the large bladder tanks which was used to store the gas as it was produced.
Toward the end of the coal gas manufacturing era, one of the Fulton Gas Company's bladder tanks exploded. The result was that more than a city block of homes, which were located across the road from the plant, were completely incinerated. It was one of the worst industrial accidents in the history of the City of Richmond. The availability of natural gas, piped in from deep wells in the oil producing areas of the country, coupled with readily dependable electricity, ended the need for commercial gas production from coal in most cities by the end of World War II.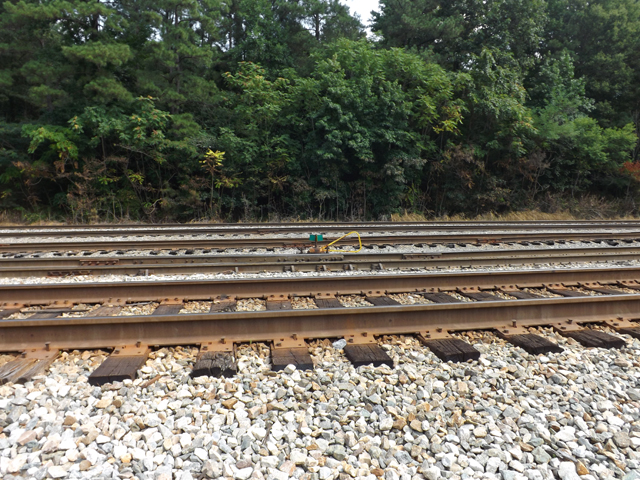 SPRING SWITCH, a spring loaded self-operating track switch located within the Fulton Train Yard at a place designated as "Egypt"
RICHMOND'S BROAD STREET UNION STATION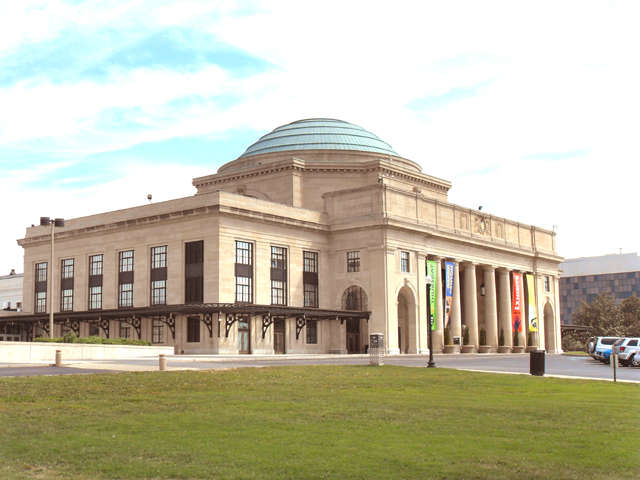 Richmond's Union Station, closed when Amtrak elected to move passenger operations to the Staples Mill Road station,
is now the home of the Virginia Science Museum.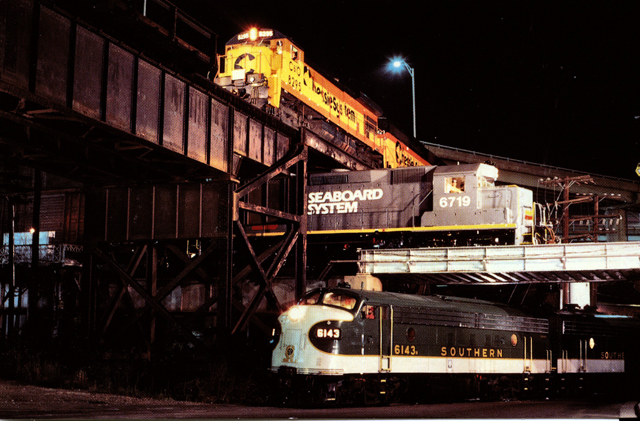 Richmond's Triple Crossing is the only place in the entire world where three trains can pass each other on different levels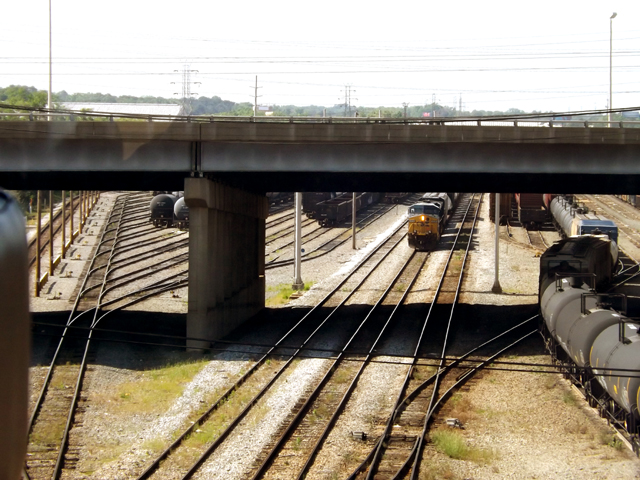 A view of ACCA Rail Yard in Richmond
VIEWS OF
MAIN STREET STATION, RICHMOND, VA
(click photos for full-size view)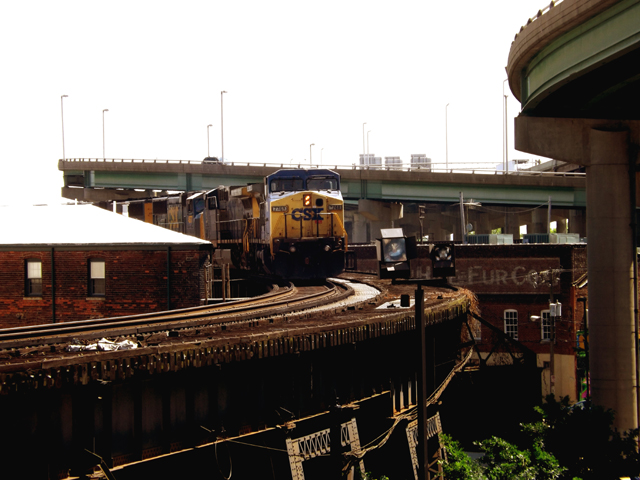 A CSX train approaches Richmond's Main Street Station on the elevated tracks that run through downtown
The power plant building, shown above, has been converted for use as an upscale restaurant and catering business. In years past, it was the electric generating plant for the Richmond to Henrico street railway. Located at Rockett's Landing on the James River, the area was once a busy port. Following the burning of Richmond at the end of the Civil War, President Abraham Lincoln arrived by boat, at this site, in order to survey the damage from the great fire which destroyed most of Richmond.

Street railways were an important part of Richmond area history. Following the horse-drawn era, several 600 volt standard streetcar lines traversed the streets and roads in the area. An exception was the Richmond-Chesapeake Bay Railway, an unusual 6600 volt rail line which served the route between Richmond and neighboring Ashland. During that same era, power for the town of Ashland was provided by two motor-generator sets which converted the 6600 volt railway power to voltage that could provide power and lighting to homes and businesses in the town. The converters were located behind the Richmond-Chesapeake Bay Ashland station which stood on the property that is now occupied by the Ashland post office.

The original Richmond and Chesapeake Bay Railway car barn (left) and the line's Ashland station. Below, a view of the electrical equipment in the Ashland Station which powered the city of Ashland, and derived from the 6600 volt power generated in Richmond for the operation of the railroad.

Be sure to continue to the next gallery by using the appropriate button below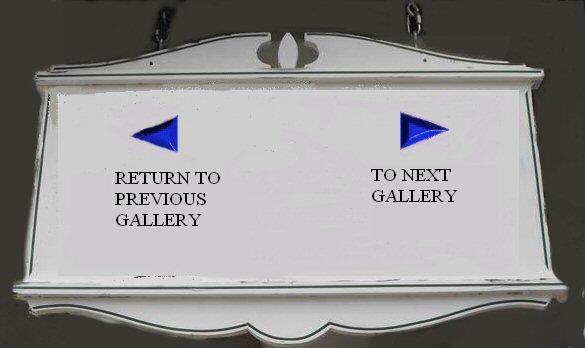 Copyright © 2018 John G. DeMajo and the DeMajo Family Foundation
---